This year's BOT meetings featured the Fifth Anniversary of the Azrieli School of Medicine, a Model UN simulation by BIUMUN delegates, and an off-campus visit to ContinUSE Biometrics, a promising start-up founded by BIU Engineering Professor Zeev Zalevsky.
The Anniversary of the Azrieli Medical School was held in the presence of Prof. Zvia Walden, daughter of the late Shimon Peres, Israel's 9th President, who five years ago addressed the festive opening of the Medical School in Safed. "Thank you Bar-Ilan University for recognizing my father's contribution to the most Zionist endeavor in the last ten years," said Prof. Walden, referring to her father's vision and efforts on behalf of the establishment of the Medical School.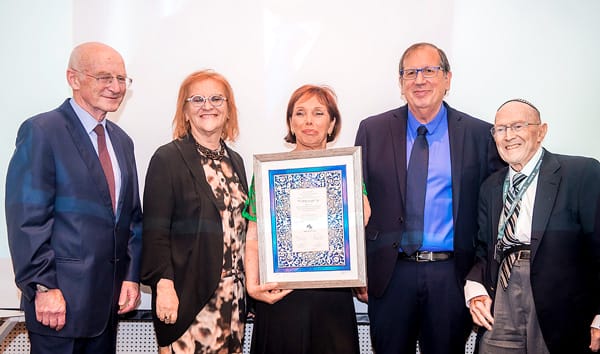 Holding a Scroll of Appreciation, Prof. Zvia Walden (center), daughter of Israel's 9th President Shimon Peres, stands with (l. to r.) Prof. Raphael Walden, BIU Rector Prof. Miriam Faust, Founding Medical Dean Prof. Ran Tur-Kaspa, and Dr. Mordecai D. Katz, Honorary Chairman of the Board of Trustees

BIU's Founding Medical Dean Prof. Ran Tur-Kaspa provides a briefing on the Azrieli Medical School's activity and development

Rabbi Mitchell Wohlberg (right) speaks of the leadership and magnanimity of the late Haron and Rachel Dahan z"l , leading visionaries in securing the establishment of the medical school, as their son Nissim (Nick) Dahan looks on

Jane Stern Lebell (right) and Ronnie Stern offer a memorial tribute to the late Jerome Stern z"l, a long and devoted friend of the BIU community, during the dedication of the Stern Cancer Genomics and Biocomputing Laboratory
BIU's Model United Nations convened for an engaging simulation on "The Civil War in Syria" sponsored by the BIU Dean of Students, the Student Union and IMUNA – Israeli Model UN Association. Bar-Ilan delegates adeptly demonstrated their public speaking, debating and negotiation skills, and BIU alumnus Chaim Seligman, former President of the BIU Model UN Society, spoke of the career benefits and the incredible opportunity to represent Israel on an international platform while attending competitions abroad.

Representing Syria, Iran, Turkey, the US, Russia, and France, BIUMUN delegates vote on a "resolution"

BIUMUN participants assemble for a selfie
During an off-campus visit to ContinUSE Biometrics, the group heard about the company's novel technology to monitor people's health (e.g., heart, respiration, blood pressure) in a touchless, compliant, continuous and affordable manner, via a smart phone. Based on the lab research of BIU Engineering Prof. Zeev Zalevsky, the company founder and Chief Technology Officer, the innovative method is now being commercialized by ContinUSE Biometrics, which has four BIU alumni on staff as well.
All wired up, a staff member demonstrates the new technology (right) and then Romie Tager follows suit (left)

BIU visitors at ContinUSE Biometrics with CEO Asher Polani (standing 5th from left)